Hindi is the Indian National language. It is spoken widely in the national capital, Delhi and adjoining areas. Many Indian states such as Haryana, Madhya Pradesh, Uttar Pradesh etc use Hindi in different dialects. Moreover, many official central government reports are demanded in Hindi and English both.
Thus, the need for high quality Hindi translation services in India is obvious. It is many a times assumed that anybody who knows both English and Hindi can do a English to Hindi translation. However, contrary to this myth, Hindi translation is a professional job that is accomplished only by professional translators.
Now, if you are looking to get your documents (lets say a technical report) translated from English to Hindi, you must make sure that the professional translation company or the translator you choose fits into the following criteria-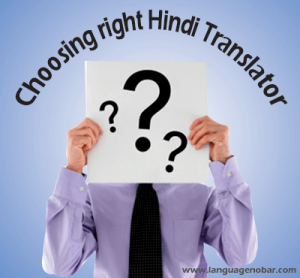 a) The translator must have a sound understanding of English and Hindi language.
b) Preferably he/she must be a native speaker of Hindi. A native speaker normally knows the language in and out and performs better than a non-native with the same experience (for more details, kindly refer to our earlier blogs).
c) The Hindi translator must have an expertise in the domain he is going to translate. Example, a medical doc can be translated with accuracy, only by a professional who has a medical background or has a good experience in this domain.
d) The translator must understand the context of the source and provide a translated Hindi document that conveys exactly the same meaning as the source. (Again, more on this in one of our earlier blogs).
e) The translator mus ensure consistency of terms across the document. As we know, the same term can be written (correctly) in different ways. However, to ensure 'no ambiguity'  for the reader, the translator must use the same term (chosen according to the context) across the document for a particular source word.
f) Before handing over the translation, it must be proofread by the translator for any errors.