Thai Translation Services generates a pool of chosen, quality, native speaking translators with ample content knowledge to deliver quality Thai translation. An effective translation would be that which communicates clearly and directly with the target audience.
Thai Translation Services caters to all business genres and hence subject matter expertise is called for to maintain accuracy and credibility of the content. In-house quality testing procedures takes care of the content precision and language intricacies, vagueness and ambiguity.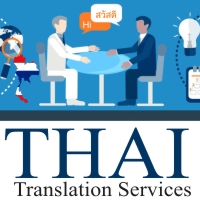 Average churn out of Thai Translation Services companies could vary from 3000 words per day to as much as 7000 words per day depending on the complexity of the content to be translated and the urgency of the project. All private communication such as e-mails, letters, personal correspondences and messages are translated with discretion and absolute privacy and secrecy is maintained. Thai Translation Services also maintains absolute confidentiality of legal documents such as hearings and proceedings, court declarations, judgements, petitions, wills, patents; and financial communications such as financial reports, annual reports, registrations, prospectus, offerings, marketing materials and strategies; and all other product data sheets, survey reports and minutes of meetings and conference proceedings.
Translation of business communications such as phone calls, fax relays, emails and couriers improve business presence. It has been observed that translation of Thai government documents while applying for travel visa is a commonly availed service. On the other hand, translation of product documentation and specifications along with manuals and guides helps the retail and manufacturing sector by facilitating import and export. Books, magazine and articles when translated give them a global presence. Website localization now forms an integral part of business expansion. Avail all the above-mentioned facilities and much more with Thai Translation Services.