If you want to establish business with larger corporate, government or in profitable global markets, you would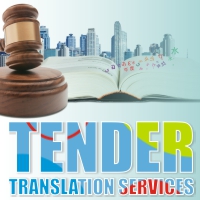 have to create a request for tender. Since they demand an awareness of different legal problems, large deal of paperwork, and also a specialist technical mind, tender bids could be exceptionally intricate processes, even while all parties talk the same language. If a language barrier is added, things will immediately become worse. Whether you are going to bid for projects abroad or seeking global partners of your own, the Tender Translation Services could relieve most of the troubles associated with the process by offering you best-in-class translation of the documents like request for tenders, invitation for bids, expression of interest, request for proposal, request for information, request for applications and request for offers.
Several businesses that even after spending long hours designing the perfect tender document for overseas markets, only to hear that their bid is disapproves on the basis that it is translated poorly. In such cases, it is wise to approach professional Tender Translation Services to remain assure that your bids, proposals and tender documents are written in a language that vibrate with your target audience. Whether you want to supply services or goods, the tender translation services will assist your business to emerge successful in tendering or bidding for international contracts.