E-commerce is on the high-rise these days and there seems no slowing down in coming 5-10 years. Sales of around millions of dollars take place every year through different e-commerce websites.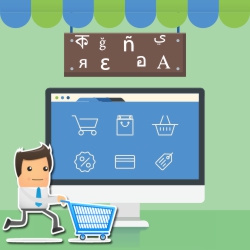 Therefore, if any e-commerce website owner wants to tap this booming business, he needs to improve his international sales by providing an intuitive user experience. As the internet user base has become multi-lingual, the best way to attract these global customers is to provide your services in different languages.
Translating and localizing your e-commerce website serves you multiple benefits.
Firstly, consumers feel some sort of intimacy with the website if it is available in their native language. If it is so, they tend to stop and spend some more time in browsing the website pages.
Most of the e-commerce website owners have complaints that customer abandon their shopping carts in between the process. This happens when the whole process is either very confusing or not clear. However, if you provide everything detailed in the customer's language, navigation will definitely become smoother.
Most of us think that major users all across the globe are English speakers, but the fact is that high-growth e-commerce markets are in non-English speaking countries. Thus, there is a dire need that e-commerce websites are available in different languages.
There is a lot of potential for growth in this market and you should leave no stone unturned to get the maximum out of it. However, one must know that translating E-commerce websites is not just translating product details into different languages. Site owners must hire professional language translation services, which can provide accurate and communicative translations.

Tags: