Desktop Publishing is regarded as one of the last stages in a normal translation project and can also give the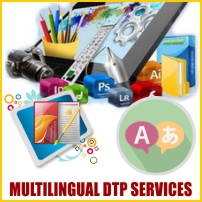 best look and feel to the localized materials. Even though the translation quality is better, even a small typographical mistake could lead to major negative impacts on how the users perceive your brand. However, the output from Multilingual DTP will be having a direct impact on the regulatory approval and usage of the product. When you surf the internet, you will find a number of companies offering multilingual DTP Services to their clients at affordable prices. These companies can work with any DTP applications and provide efficient integration of DTP to ensure localization of their brands.
Most of the companies that claim to offer multilingual DTP services have resources located in three major regions including Asia, Europe and America. They also have required resources to guarantee round the clock DTP product and the ability to meet fast Turnaround DTP request. If you hire a reputed company, you can take advantage of the multilingual DTP specialized employed by them to handle the projects in the best possible manner. As the DTP specialists have the locale specific knowledge which is backed up with a set of DTP rules and regulations, you can get flawless DTP services for any language.