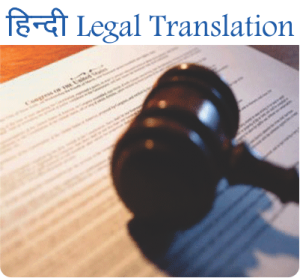 Hindi is spoken towards the northern and northern-central part of India. In many states, such as UP, MP, Delhi etc, official documentation is done in Hindi. Legal documents – police cases, bank records, land leases, registration documents etc are maintained in Hindi. Many schools and colleges issue degrees/diplomas in the Indian national language.
A document that needs to be shared with an institution / body that does not accept Hindi language documents, needs to be translated to English, thus, necessitating Hindi to English translation. Let us take a simple example, a student is applying for a student visa to the UK and needs to submit his academic documents to the embassy. In this case, his mark sheets, diplomas etc would need to be translated by a registered translation agency from Hindi to English.
Similarly, a land lease deed or a registration document originally written in Hindi, if needed to be read by a non-Hindi speaker, would need Hindi translation. As such documents are mostly legal in nature, thus a professional legal translator who has a strong knowledge of the legal terminology is appropriate for such jobs. As discussed in many of our earlier blogs, legal translation needs a high level of expertise, and the person who does such translation must have a legal background. A certified translator is normally best fit for such a job!