Life sciences translation services would certainly require familiarity with the complex medical jargons and terminologies and is handled best by translators who are educated, trained and experienced in the field of medical sciences.
Various documents are published on a regular basis by the numerous healthcare managers, clinical research organizations (CROs), manufacturers of medical and surgical devices, biotech and pharmaceutical agencies and the various scientific societies spread across the globe. These high-value research and educational information requires clear and accurate translation as most of these are meant for general public.
Life sciences translation services comprises a wide variety of subjects from affective neuroscience, biochemistry, biophysics, marine biology, ecology, conservation biology, immunology, genetics, pharmacology, pathology, cognitive neuroscience to more complex subject matter such as biomonitoring, biocomputer, biocontrol, immunogenetics, medical imaging, optometry, proteomics, parasitology and pharmacogenomics to name a few.
Life sciences translation services involve the translation of documents such as patents, scientific articles, lab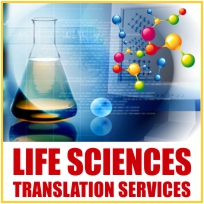 reports, case reports, promotional materials, contracts, brochures, study protocols and the like.

Life sciences translation services commands high accuracy in content as health and medicine is of primary important in our lives. In order to maintain accuracy of information, the medical translation services team needs to constantly update themselves with the ever-increasing medical terminologies and should be well aware of all the advancements in the field of medical sciences. The translation services team is also subjected to multiple levels of quality control and they also need to have a complete understanding of the stringent regulatory laws that prevail in this field. The countries like the United States, the European Union and Japan are exceptionally stringent when it comes to formulation and adherence of such rules and regulations.

Tags: