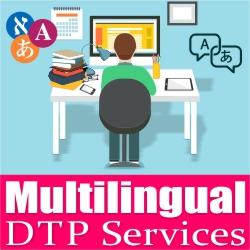 No wonder why DTP has become so important for your translation and localization projects. There are hundreds of languages in our world and every language has its own key cultural and grammatical aspects. The writing style and typographical issues in a language cause the layout of the web page to change considerably.
Many of you may ask your graphic designers to create a perfect layout of the translated page. No matter how qualified and experienced they are, their work cannot match that of the professional DTP service providers.
Want to know why? Read on-
DTP experts are habitual in creating layout of documents with multiple software and file formats in different languages and scripts. In other words, he can work on any script, font or file type.
Some languages have bidirectional characters or complex characters while other languages tend to contract and expand. The differences in size and display direction in these languages can be very well taken care of by a DTP professional.
Any typographical error can lead to regulatory rejections, or may also invite lawsuits. A work done by a DTP professional saves you from all these legal concerns.
A professional DTP service company also have linguists who perform final check so that no mistake is left by the desktop publishing experts.
Last but not the least, professional DTP experts work hard to meet your rushed deadlines and thus provide all projects on time. Further, no hiring is required and no softwares are needed to be installed in-house, thus saving lot of money.
Indeed, by working with the professional multilingual DTP experts, you can ensure that your investments in the translation projects are totally worth it

Tags: