A study reports that United States alone has varied languages in use i.e. majority of Americans use English as their first language, Spanish comes the second and rest use a variety of Indo-European languages. Obviously, one can easily imagine the vastness of language diversity that exists on a global scale.
Today, as the geo-physical boundaries of countries are fading, the need of a language expert is becoming imperative. When it comes to the medical field, the language becomes more complex and demands deeper understanding. Further, the medical documents contain most sensitive, important and confidential information. These documents may need to be shared globally for the treatment or for exchange of information. However, this information exchange can be effective only if available in desired language. Therefore, a large number of pharmaceutical companies, biotechnology companies, clinical research organizations, medical devices manufacturers and health care managers have to rely on experts for medical translation.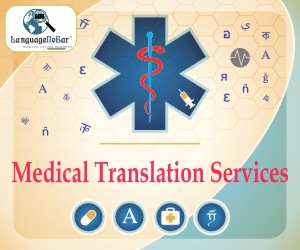 However, this translation demands high precision and accuracy as it relates to people's lives. Therefore, it is imperative that language specialist understand the medical terminology so that information and instructions can be communicated as originally intended. Only a medical translation expert can ensure clear, consistent and accurate translation of this high-value information.
Companies may need medical translation services for varied medical documents such as:
Pharmaceutical documentation
Clinical trial reports
Medical equipment documentation
Patient handbooks, brochures and medical history
Medical and health research report
Business letters in the medical field
A medical language expert significantly contributes to the cross-cultural compliance-intensive medical industry with his qualification and expertise.

Did our post help you in understanding the importance of medical language expert? Please let us know through your valuable comments.

Tags: