According to reliable information, the number of mobile connections in the world is approximately ninety six percent of its population. Further, the number of mobile phone users in the Middle East and Africa are likely to overtake Europe very soon. Apart from this, China and India have already overtaken the US in the number of mobile connections.
More number of mobile connections implies more smart phones and therefore wider usage of apps. It therefore makes sense for app developers to localize their apps as per user density to ensure better penetration among the users.
Distimo, an online mobile analytics company, has ascertained in a study that after the process of linguistic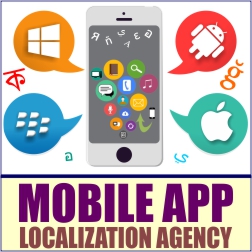 localization, the download of an iOS app witnessed an increase rate of 128 percent in all those countries where the process was applied. It is therefore beyond doubt that the language localization of the apps prove to be a better Return on Investment (ROI).
TC World in their study have reported that every dollar invested in the localization of a software application will yield a return of twenty five dollars. Economics apart, presenting an app in a local language tends to touch the very hearts of the users.
However, localizing an app by way of language translation is a constant process and needs to be done so long as the app is alive. By way of engaging a quality language translator enterprise, the task can be achieved at lower cost and better QA.