According to some statistics, currently there are around 7 billion mobile subscriptions in the world. This figure is going to surpass total expected population of the world in 2015. Majority of this escalating user base belongs to countries such as China, India, Philippines, Germany, Brazil, Russia, Japan, Vietnam, Mexico etc. This spiraling use of mobile phones is due to larger internet penetration and the development of various useful and easily accessible mobile applications. App stores are every day getting more crowded with several new online shopping, gaming, entertainment or social media applications. Today, almost every company is developing their mobile applications to reach the target customers. Professional app developer companies are regularly launching innovative apps to generate more revenues through customer downloads.
However, can an app developer ignore the huge revenue that lies beyond his country's borders? Simply, NO!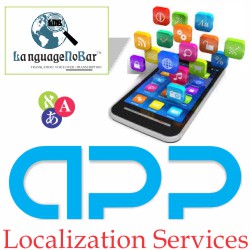 This thriving market of mobile apps requires professional app localization services so that consumers from any corner of the world can experience the looks and the performance of an app as if it is developed in their own country. Using the app in own local language helps the user to feel more connected with it. Mobile app localization enables the app to be presented in local jargon keeping local cultural sensitivities and local market behaviors in purview.
What does an app localization service do?
Prepares your mobile application for localization on any platform be it Windows, IOS or Android.
Design a User Interface that support foreign characters and both side languages scripts i.e. right-to-left (RTL) and vice versa.
Let your consumers and buyers have a positive purchasing experience
Today, companies perceive mobile apps as a steady business promotion and sourcing medium from different geographies. As the Mobile stores have become global, mobile apps need to be aligned accordingly.