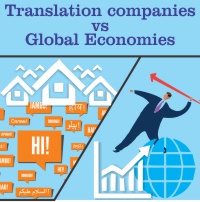 Today, companies and industries of almost every size, situated in all parts of the world, are diversifying their operations to other geographic regions and trying to engage more and more customers at a deeper level. Gradually, the voice of the corporate world is becoming cosmopolitan. The worldwide customers now want everything on their own terms including a preference of communication in their own language. Every player, no matter a giant in his own country or a novice one, has to work pretty hard to establish itself as a global brand. To make every aspect of their services comprehensive and relevant to every demographic region, every company and industry has to take help of translation companies.
Gone are the days when translation companies were just couple of pajama-clad linguists working on computers translating line by line. Today, translation services have morphed into technology companies and are acting as a significant contributor in global business operations.
By ensuring a smooth communication between the international trading partners, one can make the exchange of commodities and services a lot smoother. Further, it strengthens the commercial relations at bilateral fronts. Media agencies, PR departments, marketing agencies want translation companies to create localized advertising content to convey the actual meaning to the target customers. Be it the pharmaceutical, internet, telecommunication or manufacturing company, everyone needs the help of translation companies to ensure accurate and timely translation of crucial information and important documents.
Translation companies are providing a real voice to industrial ideas, plans and proposals to make them perfectly audible on a global platform. Translation services are indeed a boon for the global economy as they enable open communication, transcending every boundary and obstacle.