Being best in your home is not enough in today's market scenario. Fierce competition demands you to be the globally best. This has generated the concept of localization in every sense. With many other services being localized, these days it has becomes extremely imperative for software companies to localize their products and services in order to gain wide acceptance and penetration in foreign markets.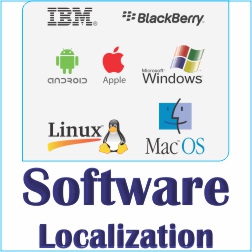 Everybody knows that Software is ubiquitous. People use softwares in personal computers, mobiles, tablets and in about every device we use as a consumer electronic good or a gadget. No matter where software is embedded, local users demand local language versions of that software or computer interface. Software localization meets this language and functionality requirements of customers.
Software localization is a win-win situation for both consumers and software companies. On the one hand, consumers feel more satisfied with localized product as he can easily comprehend all the instructions and error messages of the software program. He feels more connected to the product. On the other hand, good understanding of software at consumers' end ultimately lowers the customer support costs for the producer.
Software localization is a complex process. The localization part must run parallel to the product development phase. Therefore, certain things must be kept in mind to deliver the best-localized software.
The three basic components of a product namely graphic user interface, on-line help and documentation must be translated properly.
It is important that developed software must be easy to adapt in different cultures and languages.
Translators must be proficient in the target language apart from having expertise in the technical field.
The commercial environment is becoming more and more competitive and global. This has fired up the need of localization. Software localization services are helping software producers meet this linguistic and cultural need of every customer.

Tags: