Accurate, precise and consistent technical translation rendered by Technical Translation Services is carried out by a panel of trustworthy and competent translators who belong to the technical and scientific background to produce error free translations. Skilled linguists with industry-specific technical background can do full justice to the translation projects. Relevant resource material along with industry experience and translation skills combined with timely and cost-effective delivery of projects can do wonders to boost business and carry it to new heights.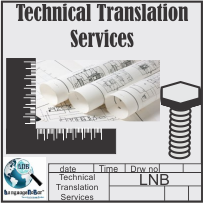 Technical Translation Services caters to a wide range of documents that belong to various genres such as medical and health related documents, patents and certificates, applications and resumes, income and expenditure statements, birth, death or marriage certificates, business plans and propositions, prospectuses and company literature, academic, insurance and financial documents, sales, banking and legal documents. To ensure zero error, each project undergoes a rigorous quality assurance process and a systematic process oriented work flow till final delivery. Consistency is maintained across documents and the standards of the source texts are strictly adhered to.
Effectiveness of communication, target language and the culture it follows and complete knowledge of subject matter is essential to communicate in the best possible manner. Documents that are strictly technical in nature such as technical drawings and specifications, illustrations and captions, manuals and user guides, safety reports, installation and service manuals, tenders and training guides, data and fact sheets require specific technical knowledge and expertise apart from experience.  Appropriate and correct use of technical jargons and linguistic features is necessary for high quality translation.