Thai Translation Services provides exceptional solutions to all your Thai translation needs. A network of dedicated, hardworking and certified linguists provides the highest-quality Thai translation solutions within budget on time. Thai Translation Services takes care to maintain the highest-quality translation that adheres to the most stringent standards for quality and accuracy.
Thai Translation Services offers a wide range of services that comprises document translation and simultaneous interpretation, linguistic validation and even consecutive interpretation. It also takes care of all Thai transcription needs and typesetting, graphics, voice overs and subtitling solutions, staffing solutions, multicultural marketing and document management of all categories. Deposition and virtual data room services, including e-learning support are well taken care of by Thai translation services.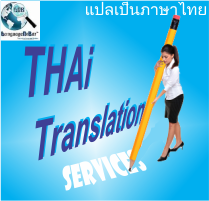 Thai Translation Services offers customized and specialized services is specific business and working areas. A specially trained panel of certified linguists are trained to be well versed in all legal terminologies. A wide range of legal and litigation services covers the major legal requirements of small and big legal firms and meticulously handles all kind of document identification needs and court reporting. Our expert Thai translators have experience working with all types of legal documents, including wills and trusts, patent applications, merger and acquisition agreements, leases, trademarks and copyrights contracts, employment and other business documents and much more. The financial services extends to e-learning and training support, translation of discussions, annual reports and meetings and caters to the world of life sciences, manufacturing, retail and advertising. Media and technology earmark the management support system and facilitate globalization.