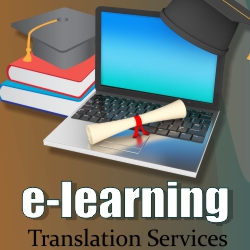 A study says that about 40% of the sales of the Fortune 500 companies come from foreign markets. Owing to the growing globalization, companies are expanding overseas and earning rich dividends. However, in this process, MNCs have to face one big challenge and i.e. imparting training to the international staff who speaks different languages.
Of course, e-learning is the ideal medium for training as it can impart effective learning in an easy way that overcomes the drawbacks of the traditional class-room training for sure. Online courses have been increasingly proving to be effective in fulfilling training needs of the global workforce.
However, these courses have to be translated according to the trainees' native language. For this, you need help of professional e-learning translation services. Translated E-learning courses are helpful in different ways such as:
An individual can comprehend the subject matter efficiently and quickly if it is available in his native language or mother tongue.
Any content that is delivered in the native language seems authentic to an individual. Further, he can recapitulate his prior knowledge on those topics based on the new concepts introduced.
Most professionals can retain the imparted knowledge better if the training is given in their mother tongue.
There are dialectal and accent differences in similar languages also. For example, the English in America is different from English in Britain. It can result in the wrong interpretation of the words.
Paying extra for E-learning translation may appear as a big concern but believe us, it is definitely worth spending for.

Tags: