Our Translation Portfolio Encompasses Diverse Industries
Our years of experience in the translation industry have given us opportunity to work in diverse industries / diverse sectors – offering high quality translation/localization services specialized to these industries. We have a team of domain expert translators who are specialists in their respective domains and languages they work on. A medical domain content is handled by our medical linguists (who in many cases are doctors), technical IT content is handled by our IT experts who have a strong hold on their source and target languages. To ensure high quality we work with native translators.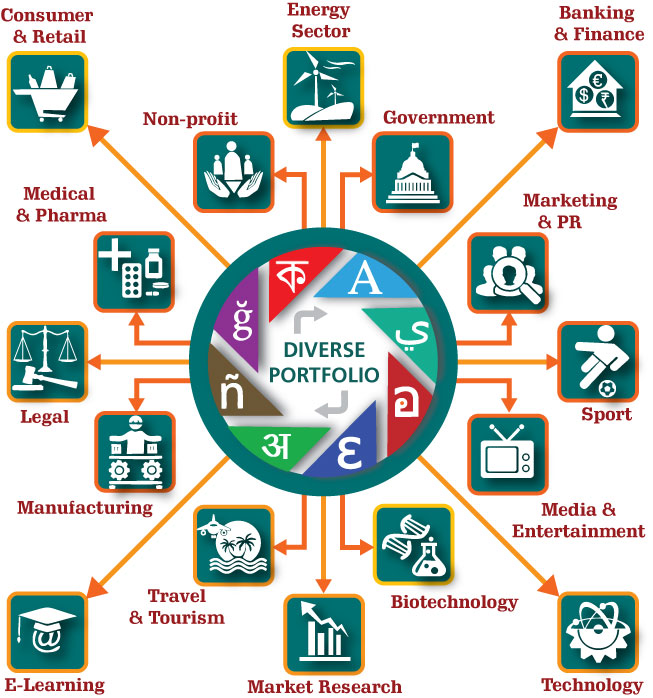 Here is a list of the industries for which we offer translation/localization services:
Medical & Pharmaceutical – Whether you have a clinical trial document, a medical thesis, pharmaceutical brochure or any other type of medical content to be translated, we have the expertise to handle that with high quality.
Consumer & Retail – We have worked extensively on consumer surveys, retail brochures, employee manuals, safety modules or any other content related to the consumer & retail industry.
Non-profit – We offer high quality localization services to NGOs and Non profits at subsidized rates.
Energy sector – We work on technical manuals, design documents etc related to the energy sector. We have worked with clients in thermal, solar, electrical sectors.
Government – We completely understand the timelines and the constraints associated with Government tenders and projects and our team takes due care to ensure all formalities are taken care of while ensuring high quality work.
Banking & Finance – Lease deeds, loan agreements, Mortgage documents, personal documents for banking loans, bank process documents, financial datasheets, annual statements – we do all these and more for the banking and finance sector.
Marketing & PR – Our business translation unit handles the Marketing & PR translation requirements. All types of marketing content such as brochures, catalogues, websites, company profiles, press releases, news bulletins etc that requires marketing translation is handled with good quality.
Sports – Whether we are talking of the IPL news, the latest golf training material or any other sports related stuff, our translation team handles that with high quality. Our team includes translators who are passionate about sports thus ensuring usage of appropriate terminology in the translated content.
Media & Entertainment – Creative advertisement, press release or any other content related to this industry is handled through our team of creative translators and content writers. For such content, we ensure that the content is rewritten in a creative manner in the target language so that the flavour and punch of the media/entertainment content is retained.
Technology – Technical translation is one of our core strengths. We have been working with multinationals who are working on cutting edge technologies. Whether you need translation on IT, Software, semi-conductors, telecom or any other technology industry, we have a dedicated team of technology expert translators and proof-readers who can ensure high quality.
Biotechnology – Biotechnology is one of the most promising industry these days. Our skilled team of translators works on your biotech projects and provides high quality translations.
Market Research – We have been working extensively in the Market Research Industry and have been translating surveys, questionnaires, research content etc. We also work on complete research projects providing complete market analysis in any country of your choice.
Travel & Tourism – We ensure that you do not face the language barrier when travelling abroad. We offer certified translation services for the tour and travel industry in over 150 languages.
E-learning – We are working with many e-learning clients in multiple languages. We can offer you rapid turn-around times and can churn out high volume translations for all your e-learning translation requirements.
Manufacturing – Our manufacturing portfolio includes machine manuals, safety manuals, handbooks, corporate dossiers etc. Our translations can help you understand your manufacturing process and help you install your machines easily.
Legal – We work on all types of legal documents – including legal deeds, court cases, agreements, codes of conduct, corporate policies etc. All our legal translations are certified for accuracy.