Owing to the growing demand for translation and localization services, more and more companies are coming up regularly in this domain. The demand for all languages is on a rise, especially into Indian and other Asian languages. More and more businesses are interacting with India and China and thus, the demand for Indian regional languages and Chinese is increasing steadily.
India is a land of diversity and multiple languages and dialects are spoken across the country. Thus, a business looking to market itself in a particular state/city in India must advertise / publicize in the local language to maximize ROI. Hindi is the Indian national language and is spoken across the northern part of the country. While getting our content translated to Hindi, we must ensure that we choose an appropriate translation agency that is good at what it does.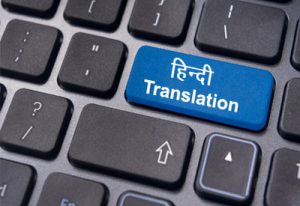 First things first, the agency must have professional Hindi translators on board that have a good hold on both English and Hindi and have a proven experience in the Hindi translation field. The professional Hindi translation company India should have a well researched quality policy in place. It should have a team of reviewers to ensure that all the work that is passed on to the clients is reviewed for any errors. Finally, a well organized QA team should focus on ensuring complete consistency and accuracy as per the source.