E-commerce is the new buzz word in the market. Online shopping bug has bitten pretty much everybody, in that it has spread in every country. A recent research reveals that global e-commerce sales will hit approx. $6.7 trillion by 2020. Not only the developed nations but also the developing economies of Asia-Pacific, African, and South American regions have joined this bandwagon with full zest.
Debilitating the physical boundaries, e-commerce is going global at spiraling pace. This new global mammoth is poised to only grow bigger and bigger. Every e-commerce retailer is trying to venture out to new countries that have vast untapped market for his products. However, to allure a foreign customer, it is imperative that your present your products and services on your website in his local language. It will not only enable him to understand your products better but establish a requisite client-customer connect as well.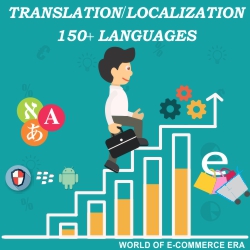 Your e-commerce website definitely needs a great local makeover to entice new customer leads and garner sales. Product summaries, order confirmations, billing forms, registration pages, etc. of your website needs to be translated accurately into the local language. Apart from the website, you will have to brace up your customer support to receive and reply customer queries into their own language. All your marketing collaterals such as brochures, ads, newsletters, etc. must also be translated into customers' language and must depict their local culture. Localized mobile ads is another crucial component you will have to take care of as though customers do not buy that much via mobile devices, they do research on them for their future purchases.
It is evident that global success of the e-commerce industry hinges on content localization. Professional translation companies can help in achieving this by translating e-commerce websites, marketing collaterals, and mobile initiatives. It can be said that translation is definitely a key to open new doors for e-commerce companies.