Tender Translation Services is an integral part of any business. The desire to do business with any big or small corporate, be it government or private corporate, is inevitably preceded by a request for tender. But tender submission is considered quite a cumbersome and complicated process that involves complicated corporate jargons, technicalities, specifications and a lot of paperwork. It is an area of tough competition where all bidding parties focus on the same proposal and speak almost similar language. The language barrier being added to the process only serves to make things even more complicated. In order to draw or extract business, the tendering needs should be catered by a thoroughly professional Tender Translation Services that leaves no scope of even the slightest of errors.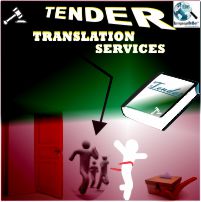 The overseas projects that include all international business requirements require high-quality Tender Translation Services. The types of documents that are commonly provided can be summed up as Request for Tenders (RFT) and Expression of Interest (EOI), also Invitation for Bids (IFB), Request for Proposal (RFP) and Request for Offers (RFO). Request for Information (RFI) and Request for Applications (RFA) are also covered.
The professional agencies that cater to Tender Translation Services employ native translators to take care of culture and local language specific requirements. They also maintain a smooth workflow in which files of all sizes can be sent and received through file transfer services. In Tender Translation Services, subject area expertise is required along with a rigorous quality-check procedure, a smooth work flow, a sound project management, healthy teamwork and quality proofreading for absolute error-free and on-time delivery.