The scope of Hindi translation services is huge given the fact that India and Nepal are the two countries that use Hindi as a primary language of the masses and many other countries spread all across the globe such as South Africa, Trinidad and Tobago, the United States, Mauritius, New Zealand, Fiji, Trinidad, Uganda, Yemen, Guyana, Singapore, Mauritius, Malaysia Suriname and Uganda have significant population using Hindi as a language. Hindi translation services is a primary requirement of a country like India, which has Hindi as its official language.
The requirement and the market of Hindi translation services is indeed widespread as can be guessed from the fact that there are around 180 million Hindi speakers who use Hindi as their primary language. Adding the number of Urdu speakers and the speakers who use Hindi as a secondary language, the figure reaches a mammoth 600 million.
Hindi translation services will involve a thorough understanding of the dialect and the context; and, the text needs to be translated keeping in mind the rules and diction of the language.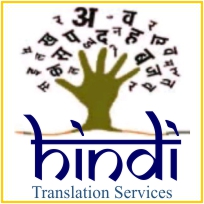 The translation of Hindi might involve a variety of dialects. Indians speak innumerable different variations or local dialects of the language Hindi, such as Awadhi, Bambaiya, Bhojpuri, Bihari, Bagheli, Bagri, Braj, Garhwali, Dakkhani, Haiderabadi, Marwari, Haryanvi, Kangdi, Kahdi boli, Magadhi, Maithili to name a few.
Hindi translation services might involve a wide variety of content belonging to diverse areas such as telecommunication, media, fictional and technical content, information technology, medical content comprising healthcare, pharmaceuticals and clinical research, financial, advertising, manufacturing, retail, legal, education, life sciences, e-commerce and e-learning.
Hindi translation services would also encompass translating various types of documents, for example, birth and death certificates, e-learning support, marriage certificates, linguistic validation, divorce decrees, typesetting and graphics, diplomas, multicultural marketing, or even transcripts.
Above all, Hindi translation services should protect authenticity, retain relevance and moreover should be absolutely comprehensible to the target audience.