Our Unique Work Methodology
At LanguageNoBar, we follow a well defined work methodology for all translation/localization projects. Our years of experience in the linguistic industry have helped us develop a translation services work methodology which ensures that all localization (or localization + design) projects are delivered on time with best possible quality. The below info graphic shows the elaborates on the work flow: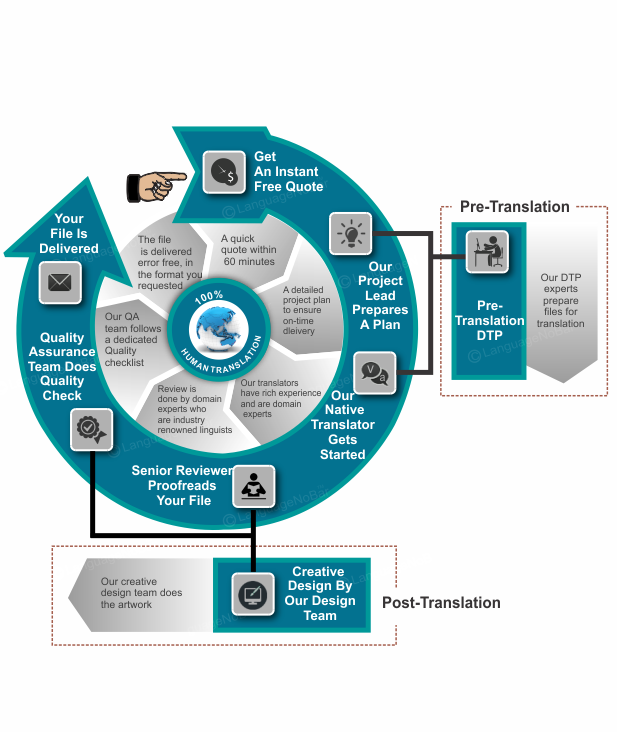 As soon as you approve our proposal, your project is allocated to a dedicated Account Manager, who manages the complete account of your company with us and acts as a SPOC. The account manager allocates the job to a Project Manager who immediately takes a note of all your requirements and prepares a work schedule. The translation documents/contents are allocated to an appropriate native translator who is purely bilingual and is a native speaker of the target language. Once translated, the content is proofread/reviewed by an industry expert who is a senior linguist and has a sound experience in the domain at hand. Post proofreading, the translated content is handed over to the Quality team that does the final QA check. The quality team follows a dedicated QA checklist that ensures flawless translation services. In case you need us to provide graphic artwork for your translated brochure, catalogue, manual etc, our graphic team works in close association with our quality team to provide you with a high quality printable.